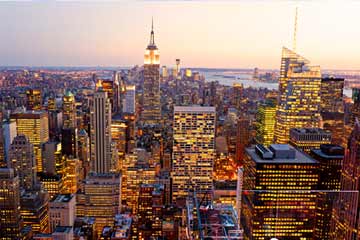 The quality of New York City's drinking water ranks among the highest in the nation. New York receives over 1 billion gallons of water from 19 reservoirs and 3 controlled lakes located upstate to supply the water needs of nine million citizens every day.
New York City vigilantly monitors the quality of its drinking water through monthly sample tests. Over 1200 samples are analyzed each month from 546 locations to monitor bacteria, chlorine levels, pH levels, pollutants, odor, and other indicators of water quality. In accordance with state and federal laws, the New York City Department of Environmental Protection (DEP) releases an annual statement regarding the sources and quality of New York City's water supply. New York City is committed to a safe water supply.
Water Rates in NYC
New York's water supply meets the demands of millions of citizens. Higher water rates went into effect on July 1, 2013, but the actual increase was lower than projected due to efficiency measures, the installation and use of more accurate automated water meters, and aggressive cost-cutting measures that DEP implemented. The rates rose 5.6%, but New York City water rates are quite reasonable when compared with other locales. A single-family home that uses an average of 80,000 gallons of water per year can expect to spend $991 annually for water and sewer services. A multi-family unit with an average water use of 52,000 gallons per year can expect to pay $644 annually.
Some multi-family dwellings are eligible for participation in the Multi-Family Conservation Program (MCP). Units enrolled in this program enjoy billing based on a fixed charge rather than metered charges. The project is meant to encourage water conservation in multi-family housing. Properties enrolled in MCP have an annual charge of $944.22 per dwelling. Other plans are available for commercial units and boarders units. MCP requires certain conservation efforts be met in order for units to be eligible for the program.
Online Bill Paying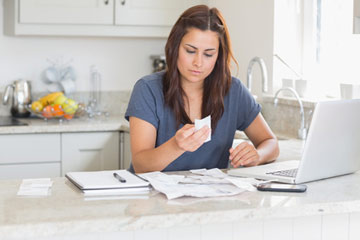 Water bills may be paid online, over the phone, through the mail, or in person at one of the borough offices or Apple Bank locations. Many find online payments to be the most convenient and efficient option. Online bill paying can be set up at nyc.gov/dep.
Customers need their account number in order to set up online bill paying. This information is located in the upper left corner of every water bill. Customers should click the blue button at the top of the nyc.gov/dep webpage that says "My DEP Account." A series of prompts leads the customer through the process of setting up an online account. Once the account is activated, customers can pay bills online in a number of ways. Customers can choose to make payments through direct debit wherein the amount is withdrawn directly from the customer's account. Recurring payments are another option, as are one-time payments made with a credit card, debit card, savings account, or checking account.
Besides online bill paying, customers who elect online bill paying enjoy a host of other features only available online. Past payments and bills can be viewed through the online account. Information about previous water is also available. Leak notification emails are available to customers signed up with online billing. This free service sends email alerts when water usage indicates the possibility of water leaks that could increase the water bill. Multiple properties are easily managed online with the ability to assign different payment sources to each property.
Tips to Conserve Water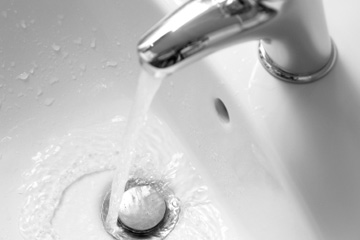 Water is a precious resource that should be carefully managed. Undetected leaks can be costly to the environment and a customer's pocket book. An undetected leak in a large building that leads to a daily loss of 2500 gallons of water per day equates to an extra $26 per day on the monthly water bill. Fixing that leak can yield up to more than $24 savings each day. DEP offers the Leak Notification Program which provides email alerts to customers whose water meters indicate increased water usage over several days that could result from an undetected water leak. This free service is available to customers enrolled with online bill payment and can provide notice before a leak contributes to a higher water bill.
Other ways to reduce water consumption include the following:
Fix leaks: a dripping faucet can waste 1000-2000 gallons of water per year.
Leaking toilets waste up to 500 gallons of water per day.
Replace toilet flappers once a year or install an adjustable flapper.
Install a fill cycle diverter to save 1/2 gallon every time the toilet flushes.
Turn water off while brushing teeth or shaving.
Short showers use far less water than baths.
Install low-flow shower heads, which can reduce usage to 2.5 gallons of water per minute.
Dishwashers use less water than hand-washing dishes.
A faucet aerator reduces water flow without sacrificing water pressure.
The garbage disposal requires water whereas composting does not.
The information provided on this site is meant to offer some basic knowledge of the New York City water and some helpful tips for consumers. Please note that this information may not be accurate, up to date and could change over time. For the most reliable and up to date information on NYC water, visit http://www.nyc.gov/html/dep/html/home/home.shtml.